"I'm gonna swallow you down"

Spoiler warning!
This article contains spoiler, read at your own risk.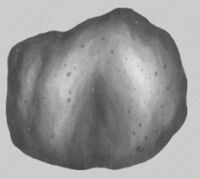 Asteroids are minor planets, it's a big and giant rock appears in the universe, that can be found in Distant Future, Orbit and Cosmos.
Levels Appearances
Edit
Appearances
Edit
It's difference in size is the biggest in the entire series, ranging from meters to megameters.
Ad blocker interference detected!
Wikia is a free-to-use site that makes money from advertising. We have a modified experience for viewers using ad blockers

Wikia is not accessible if you've made further modifications. Remove the custom ad blocker rule(s) and the page will load as expected.