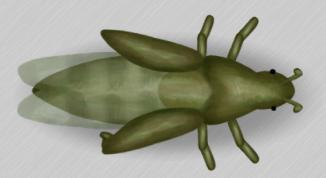 Grasshopper is an insect that can be found in Late Cetaceous, grasshopper's enemy is Cimolestes, it can be found in Ancient Egypt.
Level appearances
Edit
Cretaceous Critters
Dinotime ; Dinotime Hard (Bonus Level)
Save the Dinosaur ; Save the Dinosaur Hard (Bonus Level)
Mummifiers
Edile Egypt
Size to eat
Edit
Grasshopper's size about of 4.2 centimeters, Locust's size about of 3.2 centimeters.
Appearances
Edit
Tasty Planet Dinotime
Locust has the same texture with Grasshopper.