Grey Goo is the main character. He can eat anything that is smaller than itself. When Grey Goo eats something, it's supposed that that thing would be killed or destroyed, its colours inherited by the goo himself. For an example, when he eats a green candy, he turns green as the candy gets absorbed into his mass.
Biography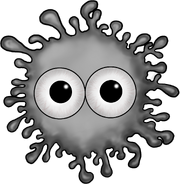 Early life
In Tasty Planet his story begins with the scientist that created him. The scientist gives him candy, allowing him to grow large enough to escape and feed on the outside world. He eats microorganisms in the laboratory, then travels outside, onto a picnic table, into an ocean, then in a park, to a city, then launches itself into the sky, then in orbit and finally into the Cosmos.
Outside adventures
Tasty Planet
Tasty Planet Back for Seconds
Appearances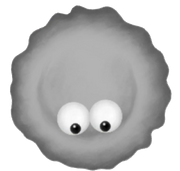 His apparance is that of a slimy grey ball with 2 adorable eyes.
In Tasty Planet, his eyes are above his head, and there is more goo radiating out. You can change his eyes and his appearances when you complete the normal mode and the casual mode. There are big eyes, small eyes, cyclops eye, wide eyes, in eyes settings, and rainbow goo in appearances settings. When you choose rainbow goo, your normal Grey Goo turns into a goo that is changing into every color. You can also choose one of the many settings at once. For example, if you choose wide eyes and small eyes, wide small eyes are the result.
In Tasty Planet Back for Seconds his eyes are in front of his head, and there is less goo radiating out, if you played local co-op with friends, the second player has one eye. He can eat other Grey Goo in the following levels: Dinogoo, Googyptian and Gooturistic. In these levels he needs to grow bigger, or else the other goo will eat him before he can eat them. Also if they grow bigger, they move faster, not same as grey goo who is controlled by players.
Quotes
"Nom...nom!"
"Hmmm..."
"Yummy!"
"Woopah!" (often misinterpreted as the Greek saying "Opa!")
"Ouch"
"Aa!"
"Oaaa" (touch and another goo Poofed)