<center>
"I'm gonna swallow you down"

Spoiler warning!
This article contains spoiler, read at your own risk.
</center>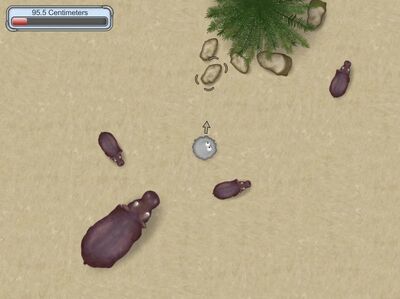 Hippo Island is the 8th level in Ancient Egypt in Tasty Planet Back for Seconds. In bonus level, it's the 6th level, you must reach 30 gold medals to unlock this level.
Details
Starting point: 95.5 centimeter
Required size: 9.98 meters
Edible Objects - Size
Zoomed Screen
First zoomed: about 2.92 meters
Nearby Levels
Ad blocker interference detected!
Wikia is a free-to-use site that makes money from advertising. We have a modified experience for viewers using ad blockers

Wikia is not accessible if you've made further modifications. Remove the custom ad blocker rule(s) and the page will load as expected.