Hippopotamus
is an animal that can be found in the
Ancient Egypt
period.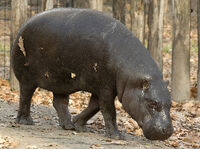 Size
Sightings
Games
Levels
Trivia
They use the same model as the baby hippo
After TP2 was released, Dreamworks Animation SKG released their first feature film titled Madagascar, in which Gloria, the film's main character, is modeled after Hippo.
Although Hippo is supposed to be a hippopotamus, he is clearly a common hippo in design.