<center>
"I'm gonna swallow you down"

Spoiler warning!
This article contains spoiler, read at your own risk.
</center>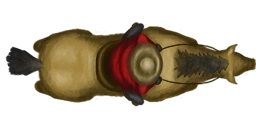 A Mountie is a constable of the Royal Canadian Mounted Police.
In Tasty Planet they are found in the City.
Appearances
Looks like there is a cowboy on the back of the horse.
The horse rider wears a red shirt and a bag behind, the sand-color hat
The horse have a dirt yellow color skin, and a black tale.
Behavior
They are aggressive and will chase and hurt the player. They can also run over Men, Women and Police Officers.
When they enter the food chain they run away.
Size
Sightings
Games
Levels
Trivia
You can't eat the man or the horse separately.
Ad blocker interference detected!
Wikia is a free-to-use site that makes money from advertising. We have a modified experience for viewers using ad blockers

Wikia is not accessible if you've made further modifications. Remove the custom ad blocker rule(s) and the page will load as expected.