Tasty Planet Back for Seconds
Comments

0
32pages on
this wiki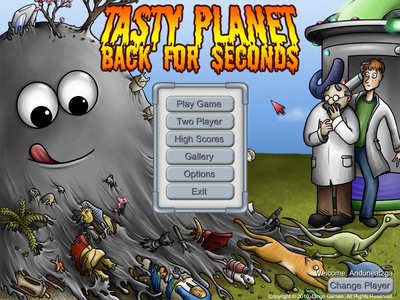 Write the first paragraph of your article here.
Section heading
Edit
Tasty Planet: Back for Seconds. It's the sequel of Tasty Planet. An old scientist tells a young scientist that he created a time machine. He also created Grey Goo. When the old scientist tells the young scientist that the Grey Goo can eat everything smaller than itself, the young scientist gives candy to Grey Goo. He starts to eat the candy and laboratory animals, then laboratory equipment, larger laboratory equipment and then he eats the time machine. He is then teleported himself to the late Cretaceous Period, 65 million years ago. He eats insects, mushrooms, leaves, flowers, dinosaurs, trees, lava, mountains and then eats a volcano. The meteorite that caused the extinction of dinosaurs crashed into the Grey Goo and he eats that, too. Because the meteorite disappeared, the dinosaurs never went extinct and they appear in the 21st century. The Grey Goo is then teleported himself to Ancient Egypt. There he eats insects, egyptian stuff, mummies, people, animals, houses, Sphinxes and pyramids which cause the disappearance of the pyramids in the 21st century. Then he teleports himself to Ancient Rome where he eats food, oysters, goblets, fish, bread, people, lions, statues, tables, ballistae, houses, buildings and Coliseum which prevented the fall of Rome and forced the people to unite together an rebuild their civilization. The Grey Goo is then teleported himself to Feudal Japan where he eats rice, flowers, weapons, people, trees, houses, and Godzilla. The old scientist and the young scientist put their brains in jars for the future. The Grey Goo is teleported himself to the distant future. There he eats bacteria, nanobots, pollens, amoebas, water, pebbles, laser ants, futuristic things, laser rats, the brains, humanoids, hoverboards, hovercars, laser tanks, houses, buildings, asteroids, space stations, flying saucers, the moon, planets, sun, stars, red giants, supergiants, hypergiants,a black hole, nebulae, star clusters, our galaxy, eliptical galaxies, spiral galaxies, galactic groups, galactic clusters, superclusters, then the fabric of the space and turtles of times. The game is created by Dingo Games.
Section heading
Edit
Write the second section of your article here. Don't forget to add a category, to help people find the article.